Trophy Figures! The Diet And Workout Secrets Of Awards Season's Hottest Stars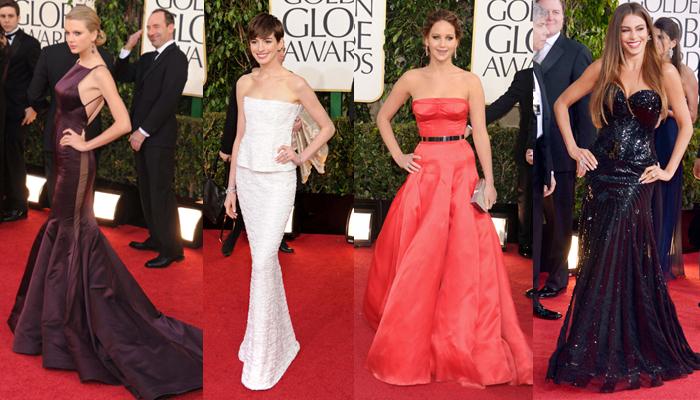 How do the biggest stars of awards season keep their bods looking bangin' for the red carpet?
From television sirens and big screen bombshells to the sexiest stars on the stage, these celebs are burning up the red carpet of all the hottest awards shows this year with their fabulously fit figures, and RadarOnline.com has all the details about their fitness and diet secrets.
Jennifer Lawrence refuses to play Hunger Games! The 22-year-old, who steamed up the stage accepting her Golden Globe for Silver Linings Playbook in a red hot Dior Couture gown, revealed to Elle Magazine last year that being skinny isn't a priority for her.
Article continues below advertisement
"In Hollywood, I'm obese. I'm considered a fat actress. I'm Val Kilmer in that one picture on the beach," Lawrence, who is often photographed indulging in al fresco workout like jogging and working out with her trainer, joked, adding that she eats "like a caveman."
Anne Hathaway can thank her Oscar nominated role in Les Miserables for her super skinny physique. To prepare to play prostitute Fantine, the actress admits that she starved herself by eating next to nothing.
"I had to be obsessive about it—the idea was to look near death," she explained to Vogue about the dangerous diet. "Looking back on the whole experience—and I don't judge it in any way—it was definitely a little nuts. It was definitely a break with reality, but I think that's who Fantine is anyway."
Zero Dark Thirty's Jessica Chastain keeps her body looking healthy and hot by staying away from meat! A longtime vegan, the fiery redhead also enjoys practicing yoga.
Article continues below advertisement
Taylor Swift stays in shape by doing an hour of cardio every day, combined with super healthy eating five days a week and weekend indulgence.
"You can't indulge without exercising, so I exercise because I love eating and Idon't want to live without anything," the country star explained to WebMD about her stay-fit mantra.
And Kelly Clarkson is going to be showing off her slimmed-down figure at the 2013 Grammy Awards in February, which she attributes to falling in love with her fiancé Brandon Blackstock combined with working out with a trainer and cutting her portions back in half.
"I lost 18 pounds," the Stronger singer revealed to Cosmopolitan. "And I think that happens when you fall in love or date someone. If I'm going to be messing around, I gotta look good."
For the rest of the diet and workout secrets of awards season's hottest stars, click here.