Olympian-Turned-Hooker Suzy Favor Hamilton's Madam Revealed!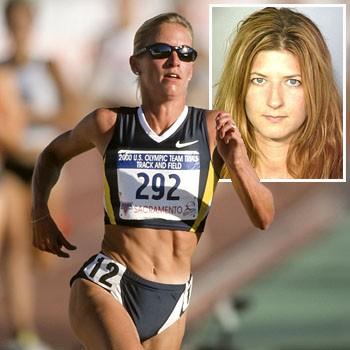 Olympian-turned-hooker Suzy Favor Hamilton's madam has been unmasked!
Runner Favor Hamilton, who admitted she had been a call girl in a sensational disclosure last month, was working for Jami Lynn Rodman of the escort agency Haley Heston's Private Collection in Las Vegas.
According to The Smoking Gun, Rodman, 35, has a checkered past -- not only did she set up the escort service, she herself once worked as an call girl under the name 'Haley Heston.' Rodman grew up in Oregon and in 1999, she divorced her husband Steve Ottinger, who had previously been in prison for manslaughter for stabbing a man to death, The Smoking Gun reported.
Article continues below advertisement
Later, Rodman created Artonauts, which promoted the work of international artists and arranged for their sale in the U.S. But she was also arrested for theft in 2000 and interfering with police in 2002, according to the website.
By 2003, she moved to Nevada and at the end of 2010, she set up the escort business anonymously through a Singapore website domain, said The Smoking Gun.
As RadarOnline.com has previously reported, Favor Hamilton started working for the Sin City-based agency in Dec. 2011 under the alias "Kelly Lundy" and regularly booked dates in Las Vegas, Los Angeles, Chicago, and Houston. In her profile, which has since been deleted, "Kelly" wrote, "I met Haley with the idea of fulfilling a fantasy and only doing it for the short term. Well, after my first date, I was hooked, and have been doing my best to visit Las Vegas as often as my schedule allows."
After she was confronted by a reporter, Favor Hamilton, a middle distance runner who competed in the Olympics, publicly confessed she had worked as a $600-an-hour call girl.
The athlete said her lawyer husband in Madison, Wisconsin, knew of her escort work and tried to get her to stop. The mother of a 7-year-old daughter explained on Twitter: "I do not expect people to understand, but the reasons for doing this made sense to me at the time and were very much related to depression."
Meanwhile, Rodman's business, Haley Heston's Private Collection, could reportedly face investigation by the FBI after the Olympian's scandal.