Skincare Guru Alex Wagner Offers Tips To Get Your Skin Glowing In The New Year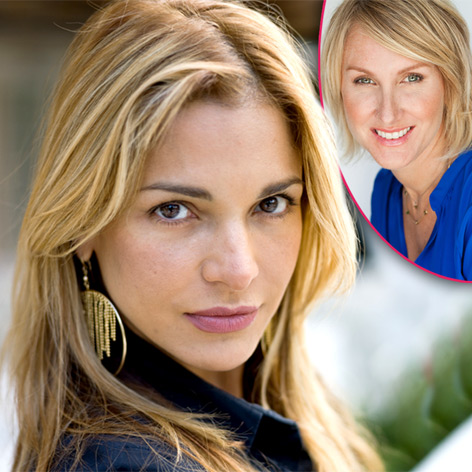 Is your skin still suffering a hangover from the holiday season?
Indulging in holiday food and spirits paired with winter weather can be extremely harsh on your skin, but skincare guru Alexandra Wagner, whose skincare clinic on trendy Abbot Kinney Blvd. in Venice, Calif. attracts the likes of several Hollywood celebrities, socialites and It Girls, is coming to the rescue with some simple and easy tips on how to rehab the damage and get flawlessly faced in no time.
Article continues below advertisement
"The holidays can wear on our skin. The cold weather along with indoor heat makes our skin super dry, sometimes also over producing oils to compensate for the dryness and creating breakouts along the way," Wagner, who is known for her skin-saving Signature Facial, explains exclusively to RadarOnline.com.
"Assimilating these simple things into your life will get your skin looking great in no time."
TREAT YOURSELF TO A FACIAL: First and foremost, if your skin is really out of balance, indulge in a great facial to put yourself on the fast track to a healthier complexion.
CLEANSE: Make sure to wash your skin, especially before bed, and take off your makeup. Your skin likes to breath at night.
EXFOLIATE: Scrub your skin 2-3 times per week. Our dead skin cells build up more during winter months from the dry, cold air and dry indoor heat. Exfoliation is a must so our moisturizer can penetrate and nourish our face, and isn't just sitting on top of our dry skin.
MOISTURIZE AND HYDRATE: Use moisturizer daily and do a hydrating mask once a week. The mask is most effective for the skin when you use right after exfoliation, because it nourishes the fresh skin.
Article continues below advertisement
TAKE SUPPLEMENTS: Get your insides glowing too and flush your system of all the holiday extras by taking omega oils, which help to keep your skin lubricated from the inside and a multi-supplement. Supplements break down faster and better than vitamins. We all need vitamin D in winter and get your B's as well.
EAT GREEN AND DRINK H2O: Eating extra greens and/or drinking green juice as well as hydrating by drinking lots of water
SLEEP: Makes sure to catch up on sleep. When you let your body rest, your face will thank you and when we feel rested our skin naturally looks better.
AVOID ALCOHOL: Alcohol dehydrates our skin and ages us, so avoiding the extra intake will help with hydration.
AVOID SALTY FOODS: I'm sure we all overindulged over the holidays, but all that added puffiness can be eliminated by avoiding excess salt.
EXERCISE: Working out not only eases stress, which reduces the potential for breakouts, but it also brings blood, oxygen and nutrients to the surface of the skin, which is great for circulation and giving us a natural glow, as well as makes us feel great.
Article continues below advertisement
DON'T STRESS OUT: Don't forget we need to shed the stress. It beats us up, making us look and feel tired. Try one thing each day to remind yourself to relax. Take a bath, meditate, stretch, cook a healthy meal, hang out with your pet, walk, get outdoors, or do whatever it is that brings you joy. Make sure to do it everyday. When you balance out your stress levels, it will show up on your face. When you feel more relaxed people will tell you how good you look. And you will be feeling it too!