Hair, Makeup, Nails And More! The Best & Worst Beauty Of The Golden Globes 2013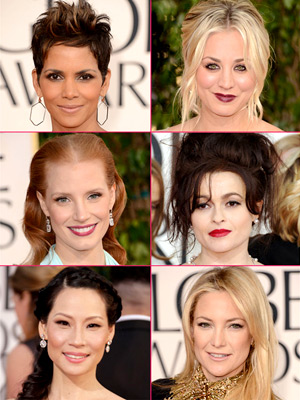 Article continues below advertisement
From Anne Hathaway's perfect pixie to Kate Hudson's SoCal waves courtesy of David Babaii, several stars impressed with their marvelous manes, while others, like Helena Bonham Carter and Giuliana Rancic committed beauty blunders by taking messy to the max.
Jennifer Lawrence was a big winner of the night in several categories, including best of beauty! The Silver Linings Playbook star, who dropped jaws in her red hot Dior Couture gown, got her 'do from Mark Townsend, who used Dove products, and her hair color from Lorri Goddard. She finished off the look with simply sexy makeup and natural nails from manicurist April Foreman, who used Sally Hansen Complete Salon Manicure in Sheer Ecstasy.
Luscious Latinas Jennifer Lopez, Salma Hayek and Sofia Vergara all kept things sexy with their ultra-glam and lust-worthy hair and makeup, while Amanda Seyfried looked subtly sexy with wondrous waves and makeup courtesy of Cle de Peau Beaute.
Makeup mishaps included Kaley Cuoco, who vamped it up too far with her not-so-pretty deep purple lips and Sienna Miller, who looked a little too natural for the red carpet.