Second Time's The Charm? NeNe Leakes Is Engaged To Her Ex!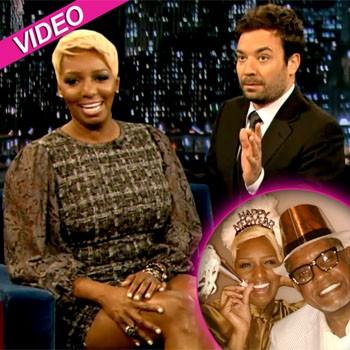 Warning: mysql_ping(): MySQL server has gone away in /home/wpcom/public_html/wp-content/db.php on line 481 amradaronline.wordpress.com
NeNe Leakes!
Hold onto your weaves because The Real Housewives of Atlanta star got engaged to her ex-husband Gregg Leakes on New Year's Eve, and RadarOnline.com has the video where she reveals the big news!
NeNe appeared on Late Night with Jimmy Fallon Thursday and gushed over her big news.
Article continues below advertisement
Jimmy showed the romantic pictures she posted on Twitter with Gregg from New Year's Eve and asked her: "So, are you engaged? Can you say anything?"
NeNe was all smiles as she described how her man proposed.
"Well, a little after midnight, I was asked this beautiful question: 'Will you marry me -- again?" and she said "Yes!!!!!"
NeNe said "I've been knowing Gregg for 17 years," but the unhappily divorced in 2011.
Their reconciliation has been a feature on season 5 of her hit reality show and maybe her wedding will become a Bravo spinoff!
Watch the video on RadarOnline.com
Congratulations NeNe and Gregg!
>