Miley Cyrus Supports Justin Bieber On Paparazzo Death: 'Wasn't Princess Di Enough?'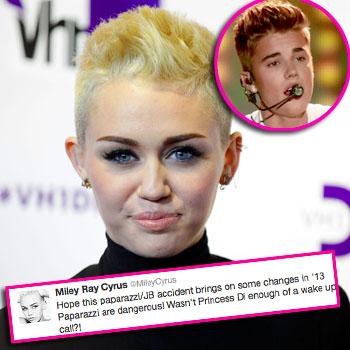 Article continues below advertisement
As RadarOnline.com previously reported, paparazzo Chris Guerra, 29, was following Justin's white Ferrari all day and when it was pulled over by the California Highway Patrol, Chris got out of his car to attempt to take photos and was hit by a car while crossing a busy street.
Turns out Justin, 18, wasn't driving or even in the white Ferrari at the time of the accident.
"It is unfair for anyone to put this on to Justin's conscious as well! This was bound to happen! Your mom teaches u when your a child not to play in the street!" Miley ranted in her tweet.
MORE ON:
hollywood happenings
"The chaos that comes with the paparazzi acting like fools makes it impossible for anyone to make safe choices."
Justin issued a statement on Wednesday saying, "While I was not present nor directly involved with this tragic accident, my thoughts and prayers are with the family of the victim. Hopefully this tragedy will finally inspire meaningful legislation and whatever other necessary steps to protect the lives and safety of celebrities, police officers, innocent public bystanders, and the photographers themselves."