Did Miley Secretly Wed? Cyrus Gushes Over 'Hubby' Liam Hemsworth: 'I'm So Happy I'm Married'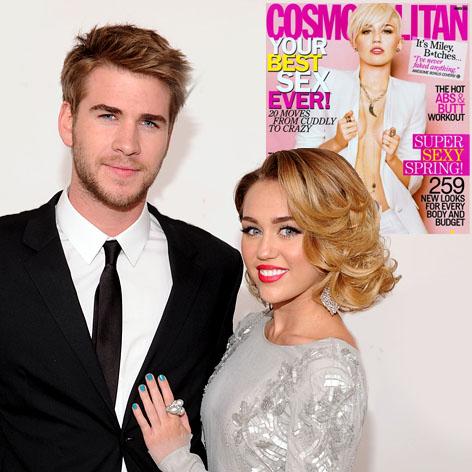 Article continues below advertisement
"I'll literally look at him and be like 'You are hot, dear god!'" She says. "The other day, I turned on the pool heater and it was steaming and he walked outside and took off his clothes and jumped in the pool. I was like, 'I'm gonna faint – the hottest guy of my life is in a steaming pool. This looks like a Playgirl shoot.' So I took a photo and made it the background on my phone. My best friend grabbed my phone and was like, 'Who's that? He is so hot!' That's my hubby!"
Miley, who has dated more than her fair share of teen heartthrobs, from Nick Jonas to Justin Gaston, says she is happy to now be off the market.
"I'm happy I don't have to date anymore," she asserts, going on to reveal that after hearing tales from her male friends about their dating games, she tells them, "I'm so happy I'm married, because you guys are so cruel!"
Despite already referring to herself as married, Miley discusses the options for her upcoming nuptials and her reaction to her dad, Billy Ray Cyrus, telling the press that she was going to have three weddings!
"I didn't know what he was talking about!" She laughs. "I had to put him on blast and then he called me saying 'You made me look dumb.' Like, Dad, you made me look dumb: I didn't know about my own wedding?"
Miley, one of the most active stars on social media, maintains that she will most likely have a small wedding.
"I feel the bigger the wedding, the more it becomes a target for people to ruin. So we just want it small, with the people who we'd take bullets for," She vows.