Miley Cyrus Flaunts Her 'Lovely Lady Lumps' On Cover Of Cosmopolitan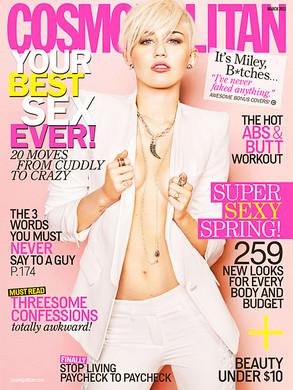 Miley Cyrus has gone braless for the cover of Cosmopolitan, and she is inviting her 11 million Twitter followers to check out her "lovely lady lumps!"
The pop princess has been teasing her fans with pictures taking during the photo shoot for the March issue of the magazine.
Miley appears on the front cover wearing a white suit and gold chains. But the 20-year-old wild child decided against wearing a shirt underneath the jacket.
Article continues below advertisement
In an interview with the magazine, the Can't Be Tamed singer opens up about her relationship with her fiancé, Hunger Games actor Liam Hemsworth.
The Hannah Montana star says: "I'll literally look at him and be like: 'You are hot. Dear God!'
"The other day, I turned on the pool heater, and it was steaming, and he walked outside and took off his clothes and jumped in the pool.
"I was like: 'I'm gonna faint – the hottest guy of my life is in a steaming pool. This looks like a Playgirl shoot'."