Michael Phelps Whisks Stunning Waitress To Bahamas For Romantic Tryst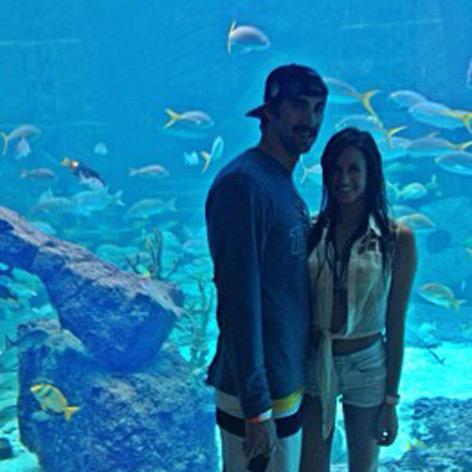 Olympic swimming superstar Michael Phelps swept a stunning waitress off her feet by flying her to the Bahamas for a romantic vacation, and RadarOnline.com has all the exclusive details - and photos - of their steamy tropical tryst.
The gold medalist's latest gal pal is 22-year-old beauty Sarah Herndon, and according to a pal she was "swept off her feet" by the star.
The party boy swimmer, 27, met her while she was on holiday with her family in Cabo St Lucas, and she extended her trip an extra day to stay with him, while her family went home.
Article continues below advertisement
Sarah's pal, who declined to be named, told Radar: "Sarah was on holiday with her family in Cabo and that's where she met Michael. She stayed an extra day with him because he asked her too. She asked her family if she could stay another day and they were cool, especially after they found out who he was!
"She flew back to L.A. afterwards, but then Michael invited her out to the Bahamas last week where he was doing a celebrity golf tournament. He offered to fly her out to stay with him, and of course she jumped at the chance. She got whisked off her feet, I mean he's a celebrity."
And things apparently got very steamy in the Bahamas!
The source added: "She had a great time with him. They hooked up multiple times, and she said he is an amazing lover.
"Michael would go to the golf tournament in the morning and she would stay at the place they were renting just swimming naked in the pool. She had the time of her life, for sure."
Speaking about Sarah, the friend added: "She is kind of easy going, she likes to hook up with hot guys. She was dating a guy in L.A., and they broke up recently. She's gorgeous, funny and loves to have a good time..... Michael appears to be the perfect fit for her."