Jennifer Hudson & Jessica Simpson Appear In New Weight Watchers Ad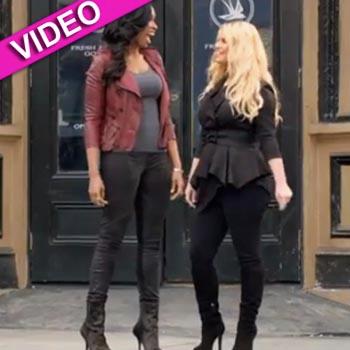 Weight Watchers has paired its two most famous faces -- Jennifer Hudson and Jessica Simpson -- in a new ad, and we've got it right here for you on RadarOnline.com.
Both Hudson and Simpson have thrived in their endorsement roles for the company, with the results to show for it: The Dreamgirls star lost 80 pounds after giving birth to her son David Otunga Jr. in 2009, while the Dukes of Hazzard beauty claimed she shed "more than 50 pounds" following the birth of her daughter Maxwell last May.
Article continues below advertisement
In the ad, the celebrities are seen walking individually down the street until merging at a corner restaurant. Hudson remembers, "I was overweight my whole life," while Simpson says she's been "obsessed about her weight her whole life."
Both women then reveal that Weight Watchers gave them the edge in keeping the pounds off, with Simpson saying, "I amazed myself," and Hudson telling her, "Get used to it!"
Simpson, who's expecting her second child with Eric Johnson, says she'll resume her Weight Watchers program after she gives birth again.
youtube