Jessica Simpson's Slimmed Down Weight Watchers Cover!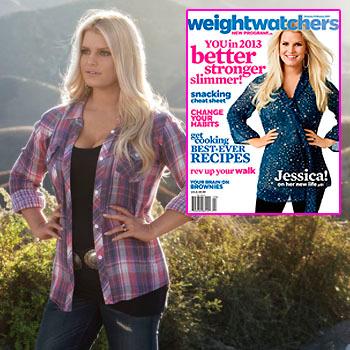 Article continues below advertisement
In the same outfit she wore showing off her newly trim body on November 10, Jess is on the magazine cover in a blue shirt with white stars and black pants showing off her trim figure.
She talked about how she ate healthy while filming the second season of her reality show Fashion Star.
"I'm crazy about smoothies, so I bring fruit chopped up and ready to go. That way, I can sip the same smoothie all morning long between takes," Jessica explained.
"If it thins out, I put it back in the blender with crushed ice for a few minutes."
In her commercial, Jessica said she's not dieting anymore but is still eating healthy.
"This year is all about new beginnings for me. I lost over 50 pounds on Weight Watchers and did not have to be perfect to do it. Being healthy has become a part of who I am -- which is great timing, because I'm having another baby."