Don't Mess With A Guidette! Snooki Tries To Get Sirius Host Fired For Mean Tweet!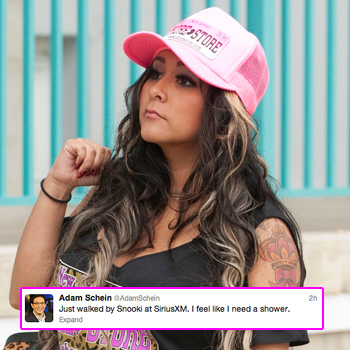 Don't mess with Snooki or your job may be in jeopardy.
The pint-sized MTV star is embroiled in a feud over a nasty Tweet and the fight has escalated so much that she is apparently trying to get the author fired from his radio hosting gig!
Adam Schein, the co-host of Sirius radio's Loud Mouths and NFL Monday QB on CBS Sports Network, slammed Nicole "Snooki" Polizzi Monday morning, writing: "Just walked by Snooki at SiriusXM. I feel like I need a shower."
Article continues below advertisement
The outspoken self proclaimed Guidette, never one to let an insult go, immediately shot back: "Why can't you say that to my face though? #toughguy. "
Meanwhile, as a Twitter war instantly erupted between the reality star's faithful followers, slamming Schein, and her haters applauding his snark, Snooki allegedly decided to take her beef to a higher power – Schein's bosses!
"UPDATED RADIO NEWS**Source: @snooki just went to #XM management trying to get @Adamschein fired for his comments.. she's having a tantrum," @Incarceratedbob tweeted Monday afternoon.