NFL Legend Dan Marino Does An 'Arnold' – Admits Having A Love Child While Married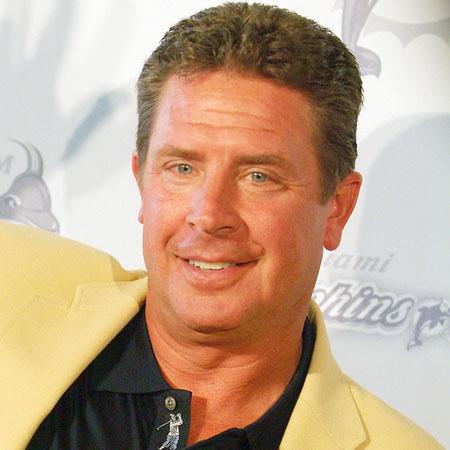 In a story reminiscent of Arnold Schwarzenegger, NFL legend Dan Marino has admitted to having a love child with his former mistress – and he made the shocking admission on his wedding anniversary!
The married quarterback-turned-CBS broadcaster Wednesday admitted to having a 7-year-old daughter named Chloe with Donna Savattere, a beautiful production assistant he had an affair with when they worked together at the network's Manhattan location. Marino confirmed the existence of his love child in a written statement to the New York Post, which first reported the story.
Article continues below advertisement
The announcement came on the same day the 51-year-old NFL legend celebrated his 28th wedding anniversary with his wife, Claire.
"This is a personal and private matter. I take full responsibility both personally and financially for my actions now as I did then," the Miami Dolphins great told the New York Post in a written statement. "We mutually agreed to keep our arrangement private to protect all parties involved.
"My wife and I have been married for almost 30 years and have six children together," he continued. "And we continue to be a strong and loving family."
A source told the Post that Marino and Savattere, then 35, "had an affair, and she had a baby," adding that "everything was on the down-low and secretive."
Insiders told the paper that Marino subsequently gave Savattere millions of dollars. She temporarily moved to Texas before coming back to the Big Apple, where she now owns residences in the Upper West Side and the Hamptons.
Article continues below advertisement
Savattere, who gave birth to Chloe in June 2005, has since had a second child with her husband since 2009, Nahill Younis. She has tried to change the child's name from Chloe Alexis Savattere to Chloe Alexis Younis, records indicate.
Marino does have contact with Chloe as "part of the deal," insiders said, adding that Savattere "was always saying she had to go meet with her lawyers to go over the scheduling and other issues."
Marino has worked as an analyst for CBS the past 10 years, and is scheduled to work this Sunday's Super Bowl broadcast.