Exclusive
Arnold Schwarzenegger Forced To Admit He Fathered Illegitimate Child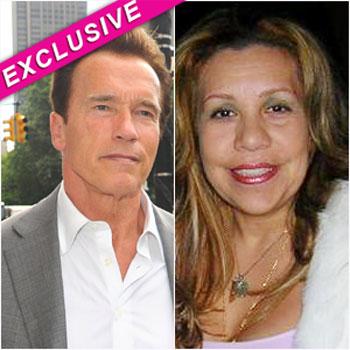 RadarOnline.com Staff Reporter
In the first interview with Arnold Schwarzenegger's baby mama, Mildred Baena reveals that it may not have been the former Governor's choice to publicly reveal the secret of their illegitimate child, Joseph.
Just one week after announcing he was separating from wife Maria Shriver, Schwarzenegger dropped the bombshell that he'd fathered a son with his former housekeeper, but RadarOnline.com has learned he may have been forced into coming clean.
Article continues below advertisement
"I'm sorry someone felt the need to expose this," Baena said in this week's National Enquirer, in what is dubbed as her message to Arnold.
"He knows I would never say or do anything to hurt him. He's a good man and I know he's suffering too."
That statement alone is an intriguing clue as to what may have been going on behind the scenes in the days leading up to Schwarzenegger's confession and alludes to the notion that someone else was in on the secret they'd held for nearly 14 years.
Baena claims in the interview that Shriver confronted her about Joseph, asking her "point blank" if Arnold was the father, to which she broke down and the truth was revealed.
"Since I was retiring soon, I said I would pack and leave right away, but she said to stay until after the holidays," Baena recalled of her conversation with Shriver.
"When she returned from her trip, I asked her what she was going to do and she said she didn't know. I told her to work it out, that it could be fixed..."
Article continues below advertisement
But Schwarzenegger's statement on May 17 is another direct contradiction of what Baena said — as the Hollywood power-house took credit for admitting the child to Shriver.
"After leaving the governor's office I told my wife about this event, which occurred over a decade ago," Schwarzenegger said in his statement about his out-of-wedlock child.
"I understand and deserve the feelings of anger and disappointment among my friends and family. There are no excuses and I take full responsibility for the hurt I have caused. I have apologized to Maria, my children and my family. I am truly sorry."