Coco Steams Up The Stage Of Peepshow In Season Finale Of Ice Loves Coco – But Ice Is M.I.A!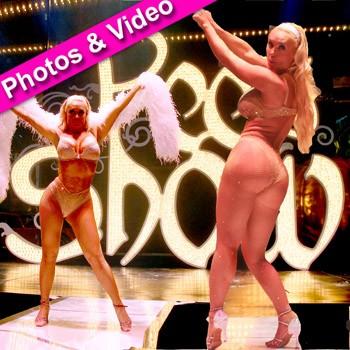 It was Coco's biggest night of her life, but her biggest fan wasn't in the audience!
In the season finale of Ice Loves Coco Sunday on E!, Ice-T''s bootylicious wife makes herPeepshow debut in Las Vegas, where she strips down in front of all of her friends and family, but one very important person is missing – her beloved hubby!
PHOTOS: Coco Makes Her Peepshow Debut
The episode, which was filmed a few months back before her smooch scandal with rapperAP.9, details the events leading up to her big night and a video chat between her and her husband, who is stuck in New Jersey filming his hit show.
Article continues below advertisement
"Everybody's here," Coco says to Ice on video chat, listing her friends and family members who flew to Las Vegas to support her on her big night.
"Everybody but me," Ice, who is back in New Jersey filming his hit television show Law And Order: Special Victims Unit responds. "Hey I tried my best. There's nothing I could do."
"I know. I understand," she says. "But you will be here you will be here in my heart."
"You can understand all you want, but that doesn't make me any more happy. I'm upset. I want to go," Ice tells her.
"I know you will do good. You got your hands full out there. You know I am routing for you."
Watch the video on RadarOnline.com
Shortly after Coco began her solo stint in Las Vegas, photos surfaced of her cozying up to rapper AP.9 in a nightclub. RadarOnline.com exclusively revealed that the rapper is claiming that their encounter was far more than platonic and that he has naked photos and video of the reality star taken in a hotel room.
RadarOnline.com exclusively reported that pals of Coco have slammed the rapper's claims as "ridiculous," maintaining that Coco never posed for naked photos with him nor filmed a sex tape.
"This guy is just trying to get his 15 minutes of fame," Coco's pal insisted to Radar.
"Coco is mad that he is trying to cash in on her and her relationship with Ice. She loves Ice and that's the end of it."
radar_embed service=eonline src="http://www.eonline.com/static/videoplayer/platform_players/swf/CEGDynamicPlayer.swf" width="480" height="270" fv="autoPlay=false&width=480&height=270&ID=Embed&releasePID=DEJ88bdceUkic76U9Lawf1rJs7CHHW5T&playerId=Embed&skinUrl=http://www.eonline.com/static/videoplayer/platform_players/swf/skinCEGPlayer.swf&locId=US"