Exclusive
No Sex Tape, No Naked Photos! AP.9 'Just Trying To Get His 15 Minutes Of Fame' At Expense Of Coco & Ice-T's Marriage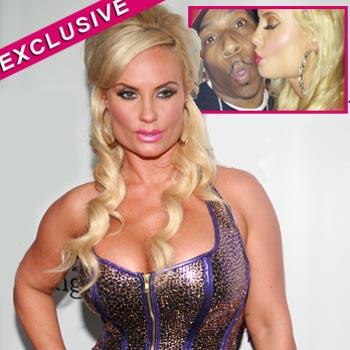 Don't expect to see a Coco sex tape or naked photos - other than her infamous social media snaps - anytime soon!
Las Vegas rapper AP.9 may be bragging that he has intimate photos and videos of the bootylicious reality star proving that their recent encounter in Sin City was far more than platonic and extended into a hotel room romp, but pals of the Peepshow star are slamming his claims, saying they are "totally not true," and RadarOnline.com has the exclusive details.
Article continues below advertisement
"Coco was not in a hotel room with AP.9," a close pal of Austin reveals to RadarOnline.com exclusively. "She did not pose for naked pictures with him and she did not film a sex tape! That's ridiculous."
After photos surfaced earlier in December of Coco cozying up to the rapper at a Las Vegas club and Ice-T going on a Twitter frenzy about the incident, AP.9 proceeded to claim that he had hard evidence that their encounter extended to the privacy of a hotel room.
"AP.9 has said he has pictures of Coco with him in a private room in Vegas and he said in some of them she doesn't have any clothes on!" a source told RadarOnline.com.
"He's been putting feelers out to see if people want to buy the pictures because he claims they are really salacious and that a lot more happened with Coco then just them posing in a night club!"
"This guy is just trying to get his 15 minutes of fame," Coco''s pal insists to RadarOnline.com.
Article continues below advertisement