Exclusive
Britney Spears Urged To Join Lawsuit Vs. Store Where She Bought Her Sick Puppy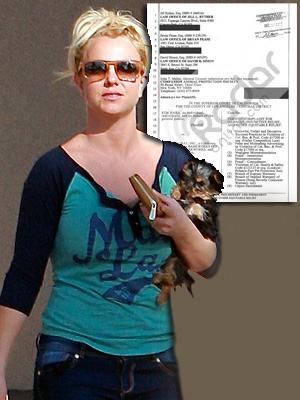 Britney Spears is being asked to join in on a lawsuit that has been filed against Barkworks, the chain store where she purchased her teacup Yorkie puppy, RadarOnline.com is exclusively reporting.
The Companion Animal Protection Society (CAPS) has harbored a battalion of attorneys to work on behalf of plaintiff Kim Haba in a lawsuit filed against Barkworks on Dec. 14, 2012 in Los Angeles County Superior Court.
Article continues below advertisement
CLICK HERE To Read The Legal Documents
Haba purchased a puppy at a Barkworks store three years ago, only to have it die a week later, she says. She now volunteers at CAPS.
Her lawsuit alleges that Barkworks is guilty of nine counts of wrongdoing including Unlawful, Unfair and Deceptive Business Practices, Fraud, and False and Misleading Advertising.
CAPS has a long history of battling Barkworks and successfully led a movement to get its store in L.A.'s posh Westside Pavilion shut down last year.
As RadarOnline.com exclusively reported, Britney's dog, Hannah, has spent much of her life in a veterinary hospital ever since the singer purchased it for $1,800 from another Barkworks store.
"We are very concerned about Hannah," CAPS West Coast Director Carole Davis tells RadarOnline.com exclusively. "We certainly hope that Britney's dog recovers, and that she will join our lawsuit to hold these despicable dog dealers accountable."