Exclusive
Bethenny Frankel's Husband Moving Out, She Goes On Vacation!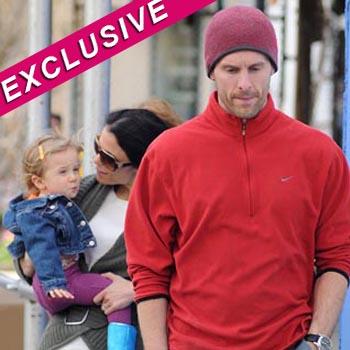 By Jen Heger - Radar Assistant Managing Editor
Bethenny Frankel gave Jason Hoppy some alone time to pack over the New Year's holiday. She took daughter Bryn with her to Aspen, Colorado, leaving her estranged husband back in New York City making arrangements to move out.
"Jason is in the process of moving out of their $5 million pad," a source close to the situation tells RadarOnline.com exclusively. "It's not a healthy situation for them to be leaving under the same roof together because Bethenny doesn't intend on getting back together with him.
Article continues below advertisement
"Bethenny wanted out of the Big Apple since announcing her separation to Jason. Jason wasn't invited on the trip, and this is the second trip that Bethenny has taken with Bryn in the last two months without Jason.
Jason didn't want Bethenny to go to Aspen for New Year's and wanted to spend time with his wife and daughter, but she refused. Jason's entire world has been turned upside down, and he is absolutely lost right now," the source added.
On December 28, the former reality star tweeted: "I took Bryn sledding & we got pummeled in snow which was slightly traumatic. Will she ever go again?"
As RadarOnline.com previously reported, The Real Housewives of New York City star released the statement that she andHoppy were parting ways, saying: "It brings me great sadness to say that Jason and I are separating. This was an extremely difficult decision that as a woman and a mother, I have to accept as the best choice for our family."
Article continues below advertisement