Award Winning Skin At Every Age! Skin Care That Gives You Celebrity-Quality, Camera-Ready Skin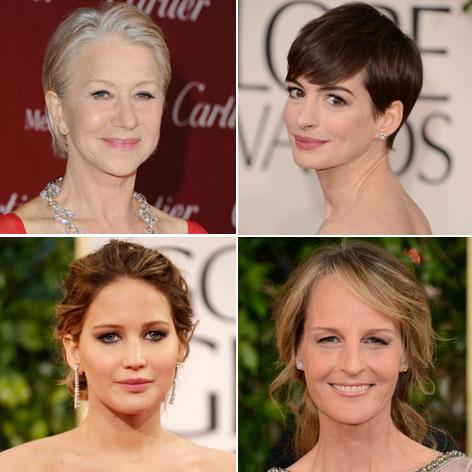 No matter their age, these gorgeous stars always look flawless, whether they are glammed up for the red carpet of a major awards show or bare-faced on the city streets! From Grammy golden girls to Oscar darlings, the most stunning actresses and musicians are grabbing attention not only for their talent, but also for their sensational skin. RadarOnline.com has photos of the top stars from the 2013 awards season, aged 22 to 67, showing off their ageless beauty on and off the red carpet.
Article continues below advertisement
It's never too early to start taking care of your skin! Jennifer Lawrence, 22, and Taylor Swift, 23, may not have to worry about fine lines and wrinkles yet, but both the Silver Linings Playbook bombshell and the country cutie are certainly taking preventative measure and staying out of the sun to keep their skin looking fresh and fabulous!
If there was a Best Skin category at the award shows, Jessica Chastain, 35, and Marion Cotillard, 37, would be competing for top honors. With her fiery mane and alabaster complexion, Chastain, a longtime vegan, has to take great care of her skin, while French fox Cotillard's fair complexion is beyond covetable.
Helen Hunt, who is nominated for Best Actress at the Academy Awards for her performance in The Sessions, is turning 50 in a few months, but it's impossible to tell by her sensational skin.
It's hard to believe that Sally Field and Helen Mirren are in their 60s! With careers on the red carpet spanning several decades, both the Hitchcock and Lincoln star are the envy of women around the world with their age-defying sensational skin.
Article continues below advertisement
But you don't have to be a celebrity to look younger and achieve flawless skin. On a recent episode of his Dr. Oz show, Mehmet Oz, M.D. talked about a new study focusing on how a combination of human growth hormone (hGH) and amino acids work together as an anti-aging agent. hGH is an essential hormone produced by the body that's responsible for ramping up collagen production, the protein that helps your skin maintain its structure. As you age, hGH and collagen production naturally slow down, which can lead to thinner, looser skin. But the results of the recent study Dr. Oz cited have shown that a new product, SeroVital, can improve hGH levels by up to 600 percent. SeroVital comes in pill form and contains a special blend of amino acids that, when taken on an empty stomach, have been shown to naturally boost your body's production of hGH.