Bah Humbug! Shady UPS Driver Steals iPad From Doorstep, Caught On Camera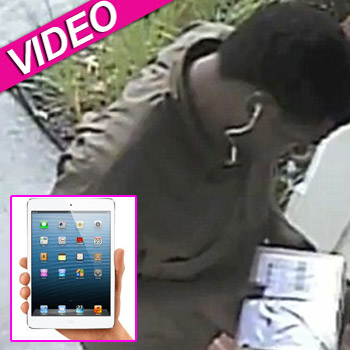 By Amber Goodhand - RadarOnline.com News Editor
A Texas UPS delivery man is in hot water after he was captured on home surveillance footage stealing an iPad Mini that was left on the doorstep of a house he was delivering to and RadarOnline.com has the shocking video.
Al Alverson checked his camera footage after receiving an email confirmation that FedEx had dropped off the Apple tablet he and his wife ordered for their daughter for Christmas, but found nothing on his doorstep.
Article continues below advertisement
Turns out after the FedEx delivery man dropped off the iPad Mini, the shady UPS guy came by to drop off a package, but later returned to the house to steal the box.
In his fury, Alverson posted the home video footage on YouTube Wednesday night and by Thursday morning a deputy and a UPS investigator were at his house.
"It said it was delivered at 9:29 a.m.," Alverson told KHOU 11 News of the iPad.
"So I go up and I have a DVR with all the cameras on it to take a look. I said, 'Oh my God,' it is the UPS guy."
According to Alverson, UPS was hesitant to resolve the issue — until he posted the video for all the public to see.
"I got a call this morning and they were very helpful," he said Thursday.
"They promised they would get me a replacement iPad today."
UPS found the employee who committed the unthinkable holiday theft and fired him.
The employee was arrested for theft by Houston authorities, but Alverson declined to press charges because the culprit returned the iPad Mini.