Hobbits Clobber Tom Cruise At The Box Office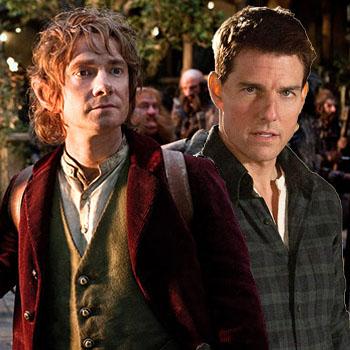 Tom Cruise took a beating the weekend box office.
The Hollywood heavyweight was knocked out of any chance of opening in the top spot by The Hobbit: An Unexpected Journey, which rolled to its second straight win with an estimated $36.7 million.
Cruise's new vigilante drama Jack Reacher, about the investigation into a sniper shooting, opened in a distant second place with $15.6 million.
The superstar heavily promoted the film, appearing on several talk shows, but his efforts failed to propel him to the top spot.
Article continues below advertisement
The film's distributor Paramount Pictures also postponed Jack Reacher's premiere after the fatal school shooting in Newtown, Connecticut, sparked new scrutiny of violent movies, although it's unclear if that hurt the film, which is based on bestselling author Lee Child's novel One Shot.
Barbra Streisand's road comedy The Guilt Trip co-starring Seth Rogen failed to even crack the top five, opening in a disappointing sixth place with just $5.3 million.