Exclusive
'Naughty' NeNe Leakes On Simon Cowell: 'I Want Him In A White T-Shirt' And Nothing Else!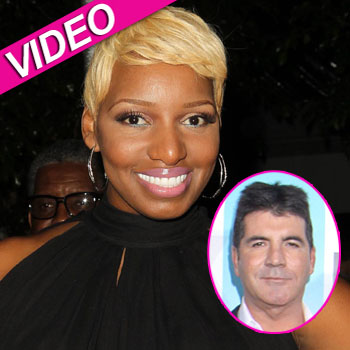 NeNe Leakes has opened up about her celebrity crush, in an exclusive interview with RadarOnline.com.
And it involves The X Factor judge Simon Cowell, a T-shirt and a cigarette!
With her tongue lodged firmly in her cheek The Real Housewives of Atlanta star spoke to us at Voli Light Vodkas Holiday Party hosted by Fergie benefiting Cell Phones For Soldiers at SKYBAR in Los Angeles on Thursday night.
Article continues below advertisement
Asked about her recent admission that she has a crush on Cowell she told RadarOnline: "Simon Cowell, I like him. I do. I want him to come around me with a white T-shirt on and I want him to smoke a cigarette."
Leakes, 44, also said: "I've been a good girl in 2012. Really, really, really I have. I was a really good girl. Cross my heart and hope to die…
"I am pretty naughty and a little bit nice."
Fergie from the Black Eyed Peas hosted the event and she shared a few of her holiday plans. She said: "We're kicking it old school style. It's an LA, Cali Christmas this year.