Miss Pennsylvania US: 'I'm Shocked' At $5 Million Judgment In Donald Trump Case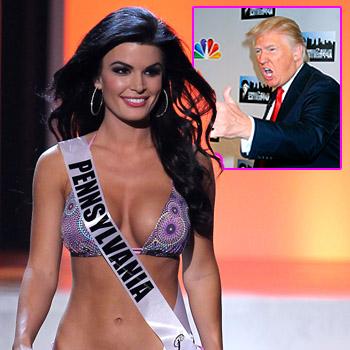 Sheena Monnin, the Pennsylvania beauty queen ordered to pay $5 million for defaming Donald Trump's Miss USA pageant, says she's "shocked" at the arbitrator's ruling.
"I was shocked that was ruled against me, frankly," the 27-year-old stunner told the Pittsburgh Tribune-Review of arbitrator Theodore Katz's decision. She feels "the most logical course of action is to fight" it.
The Cranberry, Pennsylvania native ruffled feathers in June, when she said in a TODAY show appearance and her Facebook page that Trump's contest was predetermined -- which the pageant claims cost them $5 million from a would-be sponsor.
Article continues below advertisement
On Thursday, Monnin wrote on Facebook that language in the Miss USA contract states that officials can select the pageant's winner and four runner-ups.
She wrote, "I was not aware of the clause in the Miss USA contract which says that the Miss Universe Organization, Donald Trump and others have the legal right to choose the top five and winner. This is irrespective of any publicized selection process."
Trump lawyer Michael Cohen said the language is standard in contracts and meant for "protection for the Miss Universe pageant and its owners."
Pageant officials also said Monnin's "blatant disregard of the truth is in direct contradiction to the person she is attempting to present to the public."
Monnin, who said she's mulling other options as to how to deal with the issue, responded, "They're saying it's a blatant disregard of the truth, but the truth is right here in the contract."