Punch Heard 'Round The World! Manny Pacquiao Knocked Out By Juan Manuel Marquez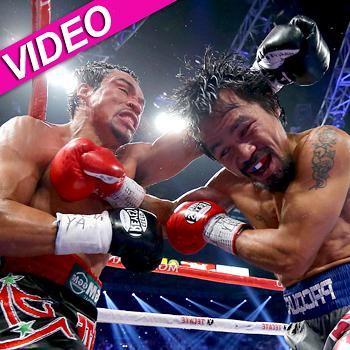 Eight-division world champion Manny Pacquiao was unexpectedly knocked out cold Saturday night during the WBO world welterweight fight in Las Vegas by Juan Manuel Marquez and RadarOnline.com has a clip of the knockout heard 'round the world.
Marquez, 39, had no victories over Pacquiao, 33, in their four previous fights, but with one second left in the sixth round the Mexican laid a right hand blow on the Filipino that sent him crashing to the ground.
Article continues below advertisement
Marquez was suffering from a broken nose, thanks to Pacquiao in the previous round, leaving him bloody and unable to breathe properly, and Pacquiao was favored to win 47-46 in five rounds.
While Pacquioa connected on 94 punches throughout the fight, Marquez only connected on 52, but secured his first win against the opponent with the KO.
Ringside at the Vegas event was former presidential candidate Mitt Romney and his wife Ann.