Boxer Manny Pacquiao Banned From L.A. Mall After Anti-Gay Remarks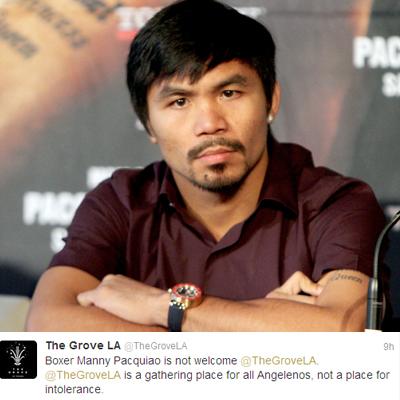 Boxer Manny Pacquiao has been banned from The Grove, a posh outdoor shopping mall in Los Angeles, and that's a problem since he was scheduled to tape an interview Wednesday afternoon with the syndicated show Extra, which shoots there with host Mario Lopez.
The ban comes after the popular boxer -- a devout Catholic and a Congressman in his homeland of the Philippines -- made inflammatory comments against same sex marriage in wake of President Obama's support of marriage equality.
Article continues below advertisement
In a recent interview, Pacquiao -- the first-ever to win titles in eight different weight classes -- told the National Conservative Examiner that he doesn't agree with Obama. He then cited Leviticus 20:13, telling the publication that "if a man lies with a man as one lies with a woman, both of them have done what is detestable. They must be put to death; their blood will be on their own heads."
In response, a spokesperson with The Grove posted this tweet late Tuesday: Boxer Manny Pacquiao is not welcome @TheGroveLA. @TheGroveLA is a gathering place for all Angelenos, not a place for intolerance.
Prior to The Grove made its decision public, Lopez tweeted his excitement about the upcoming interview, saying: Tomorrow @3pm my boy @MannyPacquiao will be @TheGroveLA! We'll talk fights, politics, movies & maybe a little singing.. Come on by! #PacMan
MORE ON:
Same Sex Marriage
Article continues below advertisement
As of Wednesday morning, Lopez had not yet to publicly commented on The Grove's decision to not allow the interview to take place on its property.
Nicknamed "The Pac-Man," Pacquiao is listed at No. 4 on Forbes' list of most influential athletes in the world.
His next fight is scheduled for June 9 against Timothy Bradley.
RELATED STORIES:
Frugal Mick Jagger 'Negotiated Deals With Hookers,' New Book Claims