Regrets? I Have A Few! Girl Who Had 56 Stars Tattooed On Her Face Can't Escape Her Mistake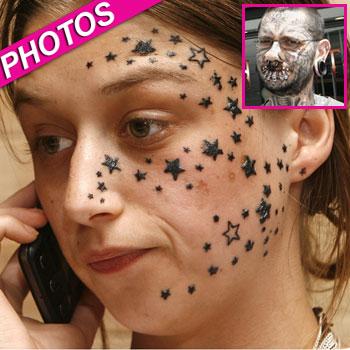 By Debbie Emery - RadarOnline.com Reporter
Everyone does dumb things when they are a teenager, but a girl from Belgium has to live with her mistake for the rest of her life – and it stares her in the face every time she looks in a mirror.
Kimberley Vlaeminck, 21, has spent the past three years trying to eradicate the 56 stars that are tattooed across her cheeks, chin and forehead after making a devastating blunder that she then falsely blamed on her tattoo artist.
Article continues below advertisement
Despite shelling out $18,000 on painful laser surgery, the black ink shows little sign of fading and her mistake is still visible for all to see.
In 2009, the then 18-year-old dishonestly claimed that she only asked Rouslan Toumaniantz – who has so many inkings and piercing covering his entire face that it looks like a terrifying mask – for a small star near her eye but instead he gave her an entire constellation, adding more and more after she fell asleep in her chair at the Tattoo Box in Coutrai, Belgium.
Vlaeminck threatened to sue him for the cost of removing the tattoos, saying the permanent markings made her feel "like a freak," but then she recanted her story and admitted she had asked for the entire astrological collection and lied because she was scared about how her father would react.
Toumaniantz initially offered to pay for half of the laser treatment but then retracted his offer, and says that he doesn't regret his artwork as its given him so much publicity, although he does now ask for written consent from all customers so the debacle doesn't happen again.