Megan Fox's Losing The Marilyn Tattoo, But Keeping Brian Austin Green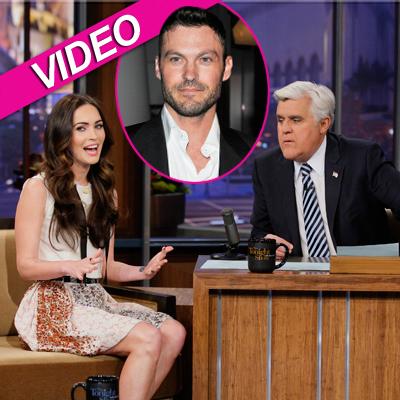 It's a case of Goodbye Norma Jean for Megan Fox. 
The 25-year-old brunette beauty, appearing on The Tonight Show with Jay Leno Monday, said she's currently getting her Marilyn Monroe tattoo taken off, and gushes on her Hollywood marriage to hunky actor Brian Austin Green, and RadarOnline.com has all the details for you.
The Jennifer's Body star estimates she's got plans to remove all "eight or nine" tattoos she has starting with the Marilyn, which is located on inside of her right forearm. (The prominent real estate it takes up, she says, has forced her to cover it up during many a shoot.)
Article continues below advertisement
"It hurts really bad," Fox said of the removal process, noting the body ink that was a good idea in her late teens, but just hasn't stood the test of time.
"I was stubborn and I thought that I would love it forever, or that it would be like a book of my life, all the things that I loved when I was younger," she said. "And it's not that at all."
Fox further described the "really painful" process of tattoo removal.
"Getting them is not that bad, but the laser, when it's hitting the ink, your skin sort of explodes and looks like little kernels of popcorn popping up," she said. "They can't numb it enough to make the pain go away."
Watch the video on RadarOnline.com
Fox -- who married 90s TV beefcake Green, 38, in Kona in June of 2010, told Leno she's quite the happily-married woman.
"It's a long time but I've been with him since I'm 18," she told Leno. "I can't imagine being without him. I love him."
Article continues below advertisement
Megan Fox: Erasing Marilyn Tats Really Hurts!
Interestingly, Fox, who met the bright-eyed actor shooting the series Hope & Faith, said she wasn't familiar with his work on 90210. 
"I was too young to have watched it ... I just thought he was gorgeous. I was instantly in love with him."
Fox stars in the new film Friends With Kids, which hits theaters on Friday, March 9.
Megan was wearing a Dolce & Gabbana dress with Brian Atwood ZENITH pumps.