'Law & Order: SVU' Star Linus Roache Hired Psychic To Talk To His Cats!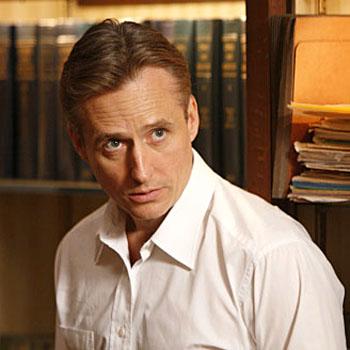 For two years he's played tough-talking assistant district attorney Michael Cutter on TV's crime drama Law & Order: SVU.
But in real life, actor Linus Roache is a big softie who is involved in a controversial "spiritual" organization and hired an animal psychic to talk to his cats, one of them dead!
The 48-year-old actor revealed his unusual approach to chatting to his pet in an interview with British magazine, Spirit and Destiny.
Article continues below advertisement
Roache said: "We recently consulted an animal communicator to find out why our cat, Chloe, kept climbing 80 ft trees.
"I was spending $300 a time to pay tree surgeons to rescue her.
"The animal psychic nailed her personality and described her climbing as an immature habit she'd grow out of. She told us Chloe was saying: 'I'm not up the tree now, so what are you worried about?'
"She also communicated with another of our cats, Jack, when he was alive and after he died."
Roache is also making headlines for becoming the managing director of EnlightenNext, moving from the U.K. to New York with his wife Rosalind Bennett to help run the controversial organization.
It is all part of the actor's desire to "explore" his "spiritual side in more depth."
But while EnlightenNext describes itself as a spiritual organization "dedicated to catalyzing evolution in consciousness and culture" it has had its share of critics, including the leader Andrew Cohen's own mother.
Article continues below advertisement
According to her website, in her book The Mother of God, Luna Tarlo describes her "harrowing spiritual bondage to her son" after becoming a "slave-like disciple."
Roache is not a stranger to unconventional spiritual beliefs. His 80-year-old father, British TV star Bill Roache believes in telepathy and reportedly claims his 18-month-old daughter who died in 1984 is a nurse in the afterlife.
RELATED STORIES: