Kelly Clarkson Gets Engaged To 'The Greatest Man Ever'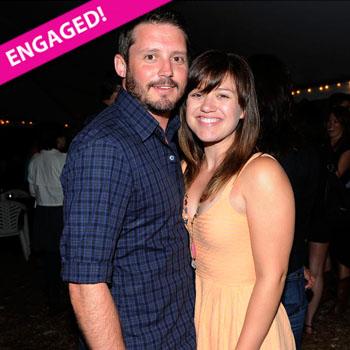 Kelly Clarkson surprised her Twitter followers with a happy message on Saturday. The former American Idol winner announced that she just got engaged to beau Brandon Blackstock.
The 30-year-old tweeted: "I'M ENGAGED!!!!! I wanted y'all to know!! Happiest night of my life last night! I am so lucky and am with the greatest man ever :)"
The Miss Independent singer has been dating 35-year-old Blackstock for a year. In August she spoke to Lucky magazine about their romance and claims that she is gay.
Article continues below advertisement
"Oh, there's all these rumors that I'm a lesbian," she said. "I have a boyfriend now, Brandon Blackstock, my manager Narvel's son, Reba McEntire's stepson."
Last month Clarkson gushed about their romance to Ellen DeGeneres on Ellen. Ironically when the comedian congratulated her on getting engaged the singer said: "No, everyone thinks we are. We're not. We've actually been dating for nine months."
But, she added: "We are totally going to get married. We love each other…I mean, he's got to put a ring on at some point. But I'll wait it out."
Fans shouldn't expect the singer to have a big wedding though. She told DeGeneres: "I've never been the girl to plan a wedding. We…will probably elope."
In a tearful moment Clarkson also revealed that this festive season she is "thankful" to have her man in her life. She said: "This is going to sound like I'm making a joke but it is so not, this is serious.
"I am not alone for the first time for Thanksgiving and Christmas and I'm very happy. I've been praying for so long and he's so great."