Kate Winslet Is Heading To The Stars Thanks To Out Of This World Wedding Present!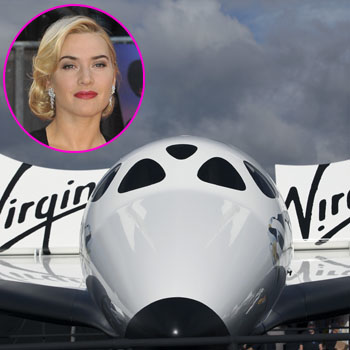 By Debbie Emery - Radar Reporter
Marrying into the Virgin family has many perks, including space travel!
After tying the knot with Richard Branson's nephew, Ned Rock'nRoll, in a secret ceremony earlier this month, Kate Winslet was given a $200,000 ticket out of the atmosphere on a Virgin Galactic flight, reported the Telegraph.co.uk.
The Titantic star became a favorite of the British billionaire before she was even legally part of the family after she rescued Branson's then-90-year-old mother from a 4 am fire last year at the private residence the businessman owns on Necker Island in British Virgin Islands.
Article continues below advertisement
"I'm not sure she wants to go on a one-way trip to Mars, but she wants to go into space," Sir Richard revealed about his niece-in-law in September.
Winslet's new – and third husband - RocknRoll, 34, works part time for Virgin Galactic, and according to the company's website, Kate can look forward to "a brief moment of quiet before a wave of unimaginable but controlled power surges."
Then the daring space passenger is "instantly pinned back into your seat, overwhelmed but enthralled by the howl of the rocket motor and the eye- watering acceleration which, as you watch the read-out, has you traveling in a matter of seconds, at almost 2500 mph, over 3 times the speed of sound."