Emma Stone Confesses Her Acne Had To Be Covered Up In Movie, Bemoans Having 'A 10-Year-Old Boy's Body!'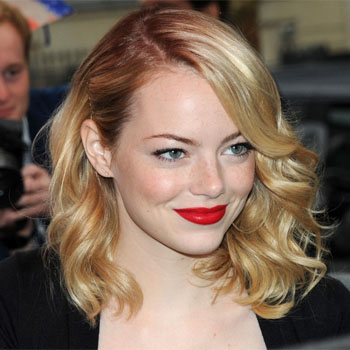 She may have a big bucks contract with cosmetics giant Revlon and a super hot movie star boyfriend under her belt, but Emma Stone still believes her looks are far from perfect.
The actress, who is dating her Amazing Spider-Man co-star Andrew Garfield, and has shared on-screen smooches with hunky Ryan Gosling says she is not as glamorous as Hollywood image-makers would have you believe.
Article continues below advertisement
In a refreshingly down-to-earth interview with beauty website Refinery29.com the 24-year-old says that she has the body of a "10-year-old boy," hates exercise and once had such bad acne that her spots had to be digitally airbrushed out of one of her hit movies!
"Well, I was kind of born with a 10-year-old boy's body," Stone tells the website. "For years, I was like: 'Please let me grow some kind of curvature! But it did not happen."
Not even clothes can give her the illusion of curves -- she says: "I mean, I've kind of given up the ghost on that one. It's not happening… I wish. I'd kill for some cha-chas and a tuckus!"
Despite her lucrative deal with Revlon, Stone says her skin is far from perfect. After suffering from "bad hormonal acne" at the age of 17, the skin condition reared its ugly head again three years later.
"Then, I had stress acne when I was 20, when I did Easy A, which they kindly video-airbrushed out of the movie," Stone says.