Orange Ya A Little Too Tan? 10 Spray-Tanorexic Stars!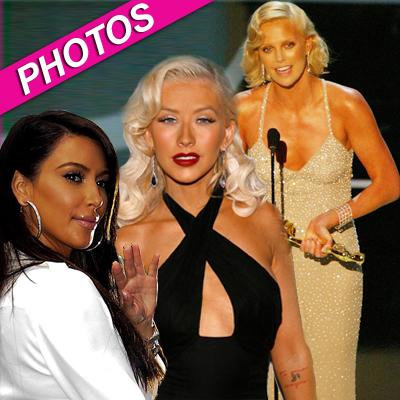 Spray-tanning is definitely a safer alternative to the tanning bed, but some Hollywood stars have taken their fake glow to catastrophically orange lengths.
From reality vixens and big screen bombshells to sexy singers and supermodels, these celebrities are no stranger to fake-tanning, often taking their skin tones to the extreme. RadarOnline.com has 10 photos of stars who have experienced self-tanning catastrophes.
Article continues below advertisement
Kim Kardashian is one of the glammest gals on reality television, devoting a lot of time to primping and pampering – and apparently a little too much time to spray tanning. Kim showed off her citrus skin wearing bright white duds, which was not a good look for the glamazon.
Sexy singers Christina Aguilera and Jessica Simpson have both experienced self-tanning blunders, hitting the red carpet looking more orange than awesome.
Who can forget how sexy – and how orange – Charlize Theron looked when she scored her Academy Award for Monster? The South African star may have sizzled in her golden gown, but it was the color of her skin that really stood out on the stage.
And when it comes to taking things to the extreme, it should come as no surprise that Lady Gaga has overindulged in the fake tan arena!
What other stars have showed off extremely orange fake tans? Find out by clicking here.