Donny Osmond's Son Arrested On Gun Charge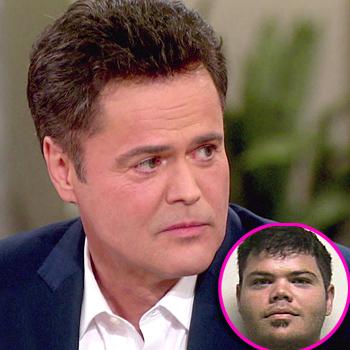 Sources close to Donny Osmond say the show biz legend will be furious to learn that his 31-year-old son Jeremy was arrested five months ago on a gun charge.
"Donny's really going to blow his stack, especially in the wake of the Connecticut school shootings," an insider told the National Enquirer. "Firing a gun irresponsibly isn't something to just shrug off, like Jeremy seems to be doing."
Article continues below advertisement
Jeremy was taken into custody July 21 after authorities said he discharged a firearm within the city limits of Cedar Hills, Utah. He downplayed the incident to the Enquirer, mistakenly claiming that he wasn't actually arrested because he was "never taken in by police car.
"I was just target shooting and the police showed up," he told the Enquirer. "It was right on the border of the city limits and BLM (Bureau of Land Management) property. But I wasn't arrested … there was no actual arrest. I was just issued a citation. I had to go down and have my fingerprints taken, but that was it.
"They let me keep my gun, and I wasn't charged with illegal possession of a firearm."
Jeremy, who was eventually fined $200 as result of the incident, admitted police did take his mugshot, but "it was no big deal."
The insider said Donny, an ex-Dancing with the Stars champion "is certainly not going to be pleased" learning of the arrest.
"Hopefully, Jeremy will start to recognize the seriousness of his actions," the insider said, "and the Sandy Hook school shooting tragedy could be a wake-up call for him."