What Was Wrong With Susan Boyle On Dancing With The Stars?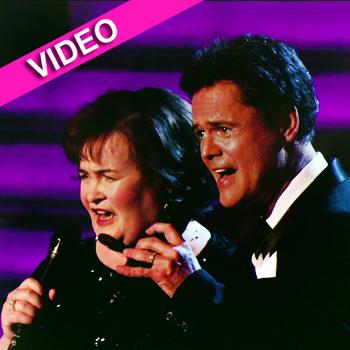 Susan Boyle looked like she'd rather be having a root canal than performing on Dancing with the Stars Tuesday night, and RadarOnline.com has the perplexing, petrified video.
With a pained expression on her face, Boyle -- who shot to overnight stardom on the UK version of The X Factor in 2009 -- was joined by DWTS' season 9 champ Donny Osmond to sing a rendition of Frank Wildhorn and Leslie Bricusse's This Is the Moment, which will be featured on Boyle's upcoming album Standing Ovation: The Greatest Songs From the Stage.
Article continues below advertisement
From the get-go, the 51-year-old Scottish songbird looked uncomfortable -- to say the least.
Watch the video on RadarOnline.com
Osmond -- ever the pro and obviously sensing Boyle's stage fright -- held her hand as she sang to help calm her nerves.
As the two performed, they were accompanied by dancers Kym Johnson, Tristan McManus, Anna Trebunskya and Henry Byalikov.
This is the third time Boyle has performed on Dancing with the Stars. Her new album, Standing Ovation, is out November 13.
What did you think of Boyle's performing on DWTS? Leave your comments below.
Meanwhile, now that Bristol Palin is the latest 'celebrity' voted off the show, each remaining couple will dance twice -- individually and in teams -- when Dancing with the Stars: All Stars continues next Monday on ABC at 8/7c.