Dallas Cowboys Star Josh Brent Charged With Manslaughter Of Teammate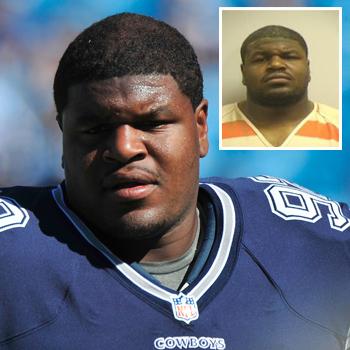 In the latest football player-related shocker, Dallas Cowboys nose tackle Josh Brent has been arrested and charged with intoxicated vehicular manslaughter in an accident that resulted in the death of his Cowboys teammate, Jerry Brown, according to the Dallas Morning News.
Brent was allegedly speeding at 2:20 a.m. Saturday morning when his vehicle hit a curb and flipped over at least once on East State Highway 114 in Irving, Texas. Cops gave Brent a field sobriety test, which he failed, and he was later booked on the second degree felony.
Article continues below advertisement
Brown, a Cowboys practice squad linebacker who was in the car, was pronounced dead at a local hospital.
The new football tragedy occured just a week after Kansas City Chiefs player Jovan Belcher shot to death the mother of his baby, girlfriend Kasandra Perkins, 22, then killed himself at the Chiefs training facility.
Brown, 25, had played for the Hamilton Tiger-Cats of the Canadian Football League and was then on the practice squad of the Indianapolis Colts before being signed by the Cowboys. "We are deeply saddened by the news of this accident and the passing of Jerry Brown," Cowboys owner Jerry Jones said. "At this time, our hearts and prayers and deepest sympathies are with the members of Jerry's family and all of those who knew and loved him."
Bullying Drives Two Students In Same School To Attempt Suicide