Holiday Reunion On Social Media! Frances Bean Cobain Tweets Back To Estranged Mother 'Kooksmcgee' Courtney Love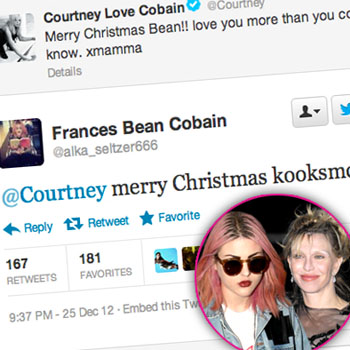 The spirit of Saint Nick can work miracles!
Despite being estranged from her far-from-ordinary mother, Courtney Love, for several years, Frances Bean Cobain let bygones be bygones on Christmas day, communicating on social media with the Hole singer, and RadarOnline.com has the details.
Love, who has made several attempts to reunite with her only daughter, extended another olive branch on Tuesday to her 20-year-old spawn.
Article continues below advertisement
"Merry Christmas Bean!! Love you more than you could ever know. Xmamma," she tweeted to Cobain.
Hours later, her daughter responded, poking fun at her wacky mother.
"@Courtney merry Christmas kooksmcgee."
Courtney, who is famous for her bizarre Twitter rants, was over the moon with the interaction, tweeting three additional responses to her long lost daughter.
"That tweet was the best gift ever, its all I need even if it's a dammed social network J miss that little head of yours," she wrote.