Holiday Reunion On Social Media! Frances Bean Cobain Tweets Back To Estranged Mother 'Kooksmcgee' Courtney Love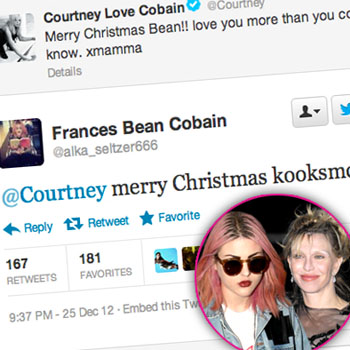 The spirit of Saint Nick can work miracles!
Despite being estranged from her far-from-ordinary mother, Courtney Love, for several years, Frances Bean Cobain let bygones be bygones on Christmas day, communicating on social media with the Hole singer, and RadarOnline.com has the details.
Love, who has made several attempts to reunite with her only daughter, extended another olive branch on Tuesday to her 20-year-old spawn.
Article continues below advertisement
"Merry Christmas Bean!! Love you more than you could ever know. Xmamma," she tweeted to Cobain.
Hours later, her daughter responded, poking fun at her wacky mother.
"@Courtney merry Christmas kooksmcgee."
Courtney, who is famous for her bizarre Twitter rants, was over the moon with the interaction, tweeting three additional responses to her long lost daughter.
"That tweet was the best gift ever, its all I need even if it's a dammed social network J miss that little head of yours," she wrote.
"That beautiful little head, and those long legs. Oh and by the way, sorry about the second hand smoke thing re: baby pic."
ON YOUR RADAR: The Best Bikini Bodies Of The Year
"But am trying these new e-cigs, the @njoyecigs so far are the best ones ive tried. Maybe they should pay us for this plug."
In 2009, when she was 17-years-old, Cobain got a restraining order against her mother, and went to live with other family members. It was later revealed in legal documents that the order was granted due to domestic violence claims against Love by her daughter. Cobain now lives in a $1.8 million home in the Hollywood Hills that she purchased with her trust fund set up after her father, Kurt Cobain's, death.