'What Is Going To Fall Apart?' Ice-T Convinces Coco To Move To Las Vegas Despite Her Reservations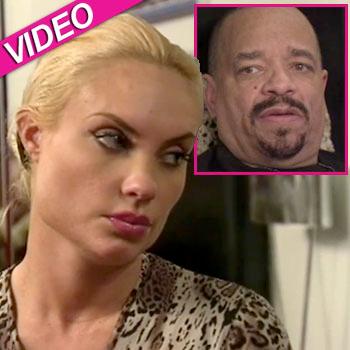 After Coco's Sin City photo scandal, Ice-T may be regretting this one!
In a sneak peek from an upcoming episode of Ice Loves Coco, the rapper ironically convinces his bootylicious wife to move to Las Vegas for several months to star in Peepshow, and RadarOnline.com has the video.
"Three months. At the end of the day you are handling your business. You are doing what you want to do. And it's like a vacation. Look at it like a working vacation," Ice tells Coco, attempting to persuade her take the job. "What is going to fall apart?"
Article continues below advertisement
Coco, who is concerned that leaving New Jersey for three months will get in the way of her dog park business venture and will strain her relationship with her husband, voices her concerns, but Ice continues to talk her into going.
"You gotta clear your mind. I understand that we don't want to be broke up and get away from each other, but we gonna handle that. You can make this move."
"I know I can make the move. I'm venting right now," Coco sternly protests. "You get kind of hyper when I vent cause you don't understand. I'm just basically telling you what is inside my head. So you jumping on me is not going to help the situation. I just gotta make sure I deal with it correctly."
Shortly after Coco began her solo stint in Las Vegas, photos surfaced of her cozying up to rapper AP.9 in a nightclub. RadarOnline.com exclusively revealed that the rapper is claiming that their encounter was far more than platonic and that he has naked photos and video of the reality star taken in a hotel room.
RadarOnline.com exclusively reported on Wednesday that pals of Coco have slammed the rapper's claims as "ridiculous," maintaining that Coco never posed for naked photos with him nor filmed a sex tape.
Article continues below advertisement
"This guy is just trying to get his 15 minutes of fame," Coco's pal insisted to RadarOnline.com.
"Coco is mad that he is trying to cash in on her and her relationship with Ice. She loves Ice and that's the end of it."
Find out what happens on this week's episode of Ice Loves Coco, which will air Sunday, December 30 at 10:00 pm ET/PT on E!
RELATED STORIES:
The Most Bootyful Superhero Ever! Coco's Curves Take On Comic-Con