Exclusive
Brooke Muller Insists She Is 'Doing Excellent' Despite Ex-Husband Charlie Sheen's Fears For Her Life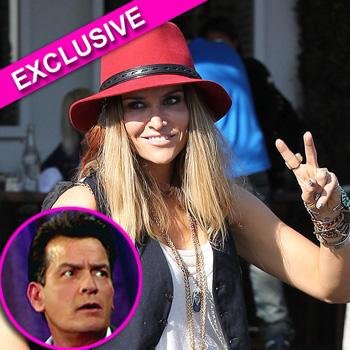 Article continues below advertisement
Among those concerned is Sheen, who is telling friends he fears for his ex-wife's future if she doesn't get a handle on her addiction issues.
"Charlie has said he fears for Brooke's health and well being," a close source tells RadarOnline.com. "She obviously just isn't in a good place right now. Brooke is in absolute denial about her addiction to drugs. The disease is winning and Charlie feels powerless to do anything to stop Brooke from her downward spiral. Charlie knows the twins are well cared for by Brooke's parents and nannies, but he is very concerned that they are going to grow up without a mother if she were to die because of her drug addiction."
As RadarOnline.com previously reported, just prior to her latest rehab stint, Mueller was rushed to the hospital from her California home, suffering from a suspected drug overdose.
Her rep denied reports his client's hospitalization was drug related though, insisting Mueller was suffering from "exhaustion."
Just like her former husband, Brooke has a long history of addiction issues and related legal woes. She pleaded guilty in May to cocaine possession in Aspen, Colorado, after which a close source claimed Brooke was "actively working on her sobriety and recovery everyday and is committed to living a clean life."
Article continues below advertisement
Meanwhile, despite working hard on the set of his FX television series Anger Management, Sheen has vowed to do all he can to help his troubled ex.
"Charlie is shooting a remarkable 90 episodes in a very short period of time, 18-24 months. He is extremely busy with work, but will do whatever is asked of him to help Brooke in any way that he can," the source says.
RELATED STORIES:
Shocking Horrors Of Meth Ad Campaign Slammed As 'Health Terrorism' By Expert