Easier By The Dozen! Brad & Angelina Take 12 Nannies Along On Holiday Vacation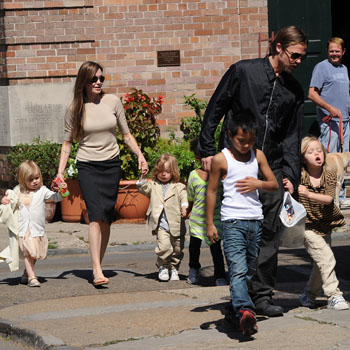 Brad Pitt and Angelina Jolie and all six of the little Jolie-Pitts spent Christmas in Turks and Caicos, and mom and dad made sure they had plenty of help along for the vacation.
According to Vanity Fair editor-at-large Jeffrey Slonim, they may have a stunning 12 nannies in tow!!
The family is staying at designer Donna Karan's house on the very posh Parrot Cay, and Slonim blogged that he'd heard "they were in town with two nannies her child. Count 'em, 12 nannies!"
Article continues below advertisement
And reports The New York Post, "They've been running around the island with no care in the world, and relaxing."
Karan's amazing pad, by the way, includes an infinity pool lined with black volcanic stone, and features 360-degree views, African and Asian art, an open-air screening room for watching movies and a dining pavilion that was created in Bali, says The Post.
RELATED STORIES:
Angelina Jolie Plans To 'Give Up Acting' When Kids 'Hit The Teenage Years'