Exclusive
Friends Or Enemies? Aviva Drescher Reveals Ramona Singer Sent Her 'Sweet Nothings' Messages!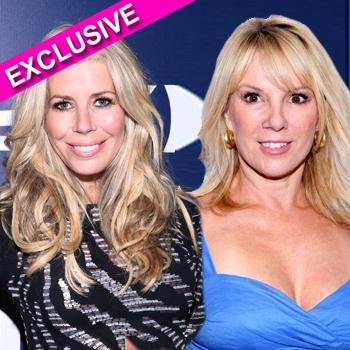 Article continues below advertisement
"Ok...while the show was airing...after filming. Before our fight in St. Barths Ramona was texting me from time to time," Aviva dished to RadarOnline.com friend Tom Murro.
"Probably four times. We got the disc on Wednesday - the world would watch it that Monday," she explained the process of how the RHONYC stars are given previews of the episodes of their shows.
"Several times Ramona texted me and wrote 'you were great in this episode' or 'great job.'"
The cordial sentiments seem to completely contradict Ramona's stance that she wants nothing to do with Aviva, and even flatly refused to accept her apology!
"I once responded 'LOL- that was when you had my back' and she wrote back, 'I will always have your back.'"
Say what? So are they friends or are they enemies? Or are they just frenemies? Even Aviva claims she doesn't know.
"It's weird...So way before I apologized on/off camera trying to make peace and move on - she was texting me sweet nothings!"
Do you think Aviva and Ramona are friends or are their fights all for the cameras? Tell us in comments!
RELATED STORIES:
Secret Truce? Ramona Singer Refuses To Accept Aviva Drescher's Apology!
Behind The Scenes: Sonja Morgan Dishes On The Unreal Reunion Drama That Didn't Air!
Ramona Singer Vehemently Denies Boozing Problem: 'I Drink Just As Much As LuAnn de Lesseps!'
Aviva Drescher's Feud With Ramona Singer Turns Downright Ugly!