Arrest Warrant Issued For TV Host Who Set Magician's Hair On Fire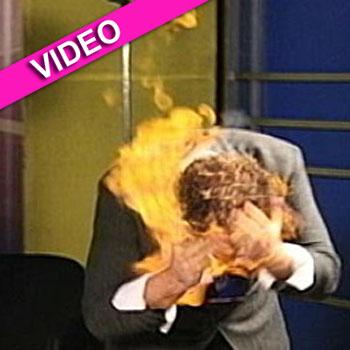 An arrest warrant has been issued for Franklin Barazarte, a TV host in the Dominican Republic who played a cruel rib on magician guest Wayne Houchin, dousing the man's head in flammable cologne which caused him to catch fire, leaving first-and second-degree burns on the magician's face and hands.
The incident took place on Approach the Stars, as Barazarte told Houchin and other magicians appearing on the episode that he wanted to bless them. He then rubbed Houchin's head with Agua de Florida -- a flammable fragrance used in Santeria -- causing it to become engulfed in flames. In the video, one onlooker can be heard saying, "His face is burnt!"
Article continues below advertisement
"This was not a stunt or part of an act," Houchin wrote on Facebook. "This was a criminal attack."
Houchin told ABC News in an e-mail that while he looks and feels better with every passing day, there are still complications that could be long-term.
"The doctors here are cautiously optimistic that I will heal with no scars on my face," he wrote. "My hand, however, is in a lot of pain and isn't healing as well as my face."
Watch the video on RadarOnline.com (Warning: Video is disturbing)
The show, taped on November 26, was not broadcast, the AP reported.
The great David Copperfield explained the misconceptions his peers deal with in terms of outsiders looking to get in on the act.
"You try to present yourself as a performer that is creating wonder and amazement," Copperfield told ABC News, "and occasionally somebody might misunderstand that and might think that you're trying to foster belief in something supernatural."