Ambulance Called To Honey Boo Boo's House For Dad, Sugar Bear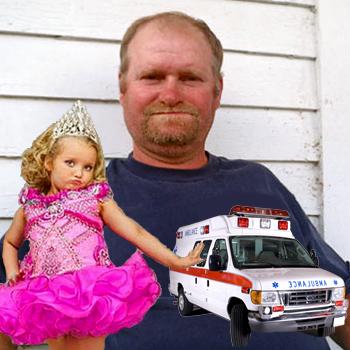 Honey Boo Boo and her family had a holiday scare on Saturday night when an ambulance was called to their Georgia home, RadarOnline.com is reporting.
Paramedics were dispatched to the reality-TV toddler's house because her dad, Sugar Bear wasn't "feeling well," E! News first reported.
"An ambulance was called to the house, but he was not taken off in it, he just got checked out by paramedics," an eyewitness told the site.
Article continues below advertisement
Dressed as Santa Claus for an annual toy drive the family hosts at their home, onlookers were tipped off the 40-year-old father wasn't feeling well when he wasn't allowing kids to sit on his lap like he usually does.
"Usually you're allowed to sit on Sugar Bear's lap," the source told E! News.
"But he was not feeling well...they were worried his blood pressure was getting high."
Just three months ago Sugar Bear was in the hospital after an ATV accident that left him with an infection in his leg and talk of getting it amputated.