Nap Time! Honey Boo Boo Child 'Falls Asleep' On Dr. Drew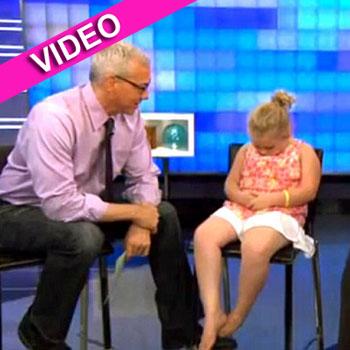 Reality TV sensation Honey Boo Boo Child, appearing Monday on Dr. Drew, might have felt a bit burnt out by her recent trip out west.
While the TV doc asked her questions, the McIntyre, Georgia native pretended like she was sleeping, clearly tired of keeping up appearances.
Dr. Drew asked her, "Is it difficult to be on TV?" to which the 7-year-old, whose real name is Alana Thompson, answered, "Fans come up to me and I hate it."
Article continues below advertisement
The famous tot appeared on the show with her mother, June, who prodded her, "Alana, Come on now let's get this done so we can go."
Watch the video on RadarOnline.com
The Here Comes Honey Boo Boo star and her family are slated to appear in a Christmas special on TLC this holiday season. Dr. Drew's interview with the reality star airs Tuesday at 9/8c on HLN.