Adam Levine Slams Honey Boo Boo: 'She's The Decay Of Western Civilization'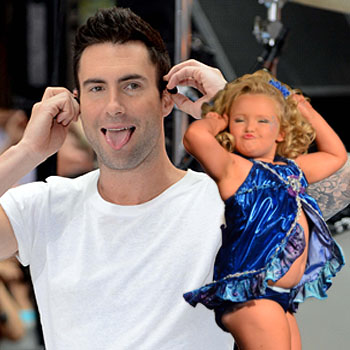 By Amber Goodhand - RadarOnline.com News Editor
Adam Levine is not a fan of Honey Boo Boo and even called the 7-year-old reality TV sensation the "decay of Western civilization," RadarOnline.com is reporting.
The Voice coach and Maroon 5 frontman went on to say that Here Comes Honey Boo Boo is the worst thing to happen, ever — and even likens the show to a tragedy you just can't take your eyes off.
"Honey Boo Boo is the DECAY of Western civilization," Adam told GQ.
Article continues below advertisement
"Just because so many people watch the show doesn't mean it's good. So many people witness the atrocities and can't take their eyes away from them, but that doesn't mean they're good.
"That show is literally The. Worst. Thing. That's. Ever. Happened," he continued. "It's complete f**king ignorance and the most despicable way to treat your kids. F**k those people. You can put that in the magazine: F**k those idiots. They're just the worst."