School Shooter Identified As Adam Lanza; Opened Fire On His Mother's Kindergarten Class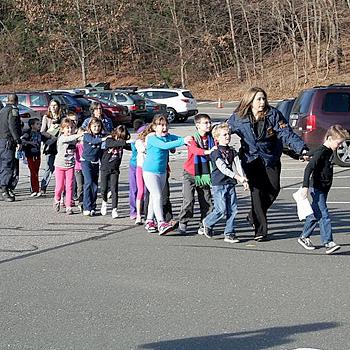 The gunman who murdered 26 people at an elementary school, including 20 children in Newton, Conn., has been identified by Fox news as Adam Lanza.
In an act of unspeakable horror, Lanza walked into Sandy Hook Elementary School and opened fire while dressed in black military gear, Fox reported.
The body count may continue to rise as officials are still sorting through the carnage of what seems to be the second worst school shooting in U.S. history, exceeded only by the Virginia Tech massacre in 2007, which left 32 people and the gunman dead.
Article continues below advertisement
Initial reports identified the shooter as Adam's older brother Ryan, 24, who is currently being questioned by police. It is not yet known if he is facing charges.
Adam's mother was a kindergarten teacher at the school where the murders took place Friday.
Adam was found dead inside the school from a self-inflicted gunshot wound, according to CNN.
Two 9mm handguns were found near Lanza's body. It was reported he fired as many as 100 rounds during his shooting rampage. A third weapon, a .223-caliber assault rifle, was found outside of the school.
Among the dead were many schoolchildren, principal Dawn Hochsprung, and the school psychologist, a parent who witnessed the attack told CNN.
"We were in my art teacher's room. We heard some gunshots – like 20. Then the police came with guns and told us to close our eyes," said fourth-grader Venesa Bajraliu, 9.
"I heard gunshots and I saw policemen. My teacher was scared and a little shaky. We went into the office and police came and took us into the firehouse."