Woman Gets House Arrest After Trying to Extort Duggar Family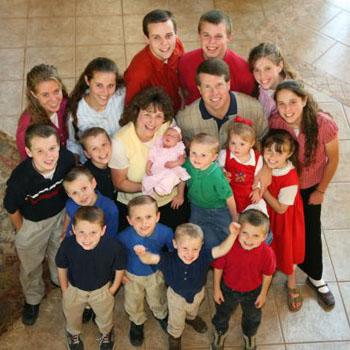 An Iowa woman who tried to extort the company that airs 19 Kids and Counting, the Duggar family reality show, was sentenced to house arrest by a federal judge on Thursday.
The deeply religious Duggars were at the center of the extortion scandal when Teresa Hunt claimed that family cousin Amy Duggar was having an affair with Missouri singer James Garrett, a man 21 years older, and offered RadarOnline.com and other media outlets what she called "incriminating and damning" photos of the couple for $10,000.
Article continues below advertisement
As RadarOnline.com exclusively reported in February, Hunt was arrested after trying to ger Discovery Communications, parent company of the TLC network that airs 19 Kids and Counting, to pay her $10,000 or cancel the Duggar show to stop her from releasing the photos.
Hunt, of Bettendorf, Iowa, had pleaded guilty in July to one count of extortion. On Dec. 6, she was sentenced in U.S. District Court in Davenport to one year of supervised release which includes four months of home confinement and a mental health evaluation.
Earlier this year, Garrett showed RadarOnline.comthe alleged racy pictures, which were anything but incriminating to Amy Duggar. "I wanted the word to see the photos so that there would be no question left in anyone's mind about any sort of relationship other than a platonic, working friendship between Amy and I," Garrett told RadarOnline.com. The singer, 56, stars in a John Denver tribute show in Branson.
Article continues below advertisement
In her letter to Discovery, Hunt said that reality show stars Jim Bob and Michelle Duggar, "claim to be so Chirstian so they keep popping out more babies to keep their ratings up." The Quad-City Times newpaper reported that Hunt admitted to the judge her actions were senseless and selfish and said in court, "I'm so very sorry for what I did to Amy Duggar."
Hunt said anger over a payment dispute with Garrett over professional photography she had done for him led to the extortion attempt.