Personal Assistant Of Former Waffle House CEO Claims She Was Sexually Blackmailed Over 10 Year Period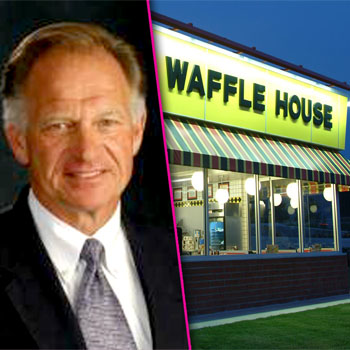 A personal assistant of a former Waffle House CEO has accused him of forcing her to perform sex acts on him every month for 10 years – or else she'd be fired, RadarOnline.com is reporting.
According to police reports, the woman, a single mom who used to work for Joseph Rogers Jr. until her resignation earlier this year, claims her old boss repeatedly tried for force himself on her, touch her breasts and make her engage in sexual activity with him "at least once or twice a month."
Article continues below advertisement
The Georgia woman, identified by the Marietta Daily Journal as Brook Brindle, is also claiming that Rogers threatened to get rid of her if she didn't play along with his lewd behavior.
Brindle says she is only educated to high school level and that she would not have been able to find a job that matched her pay had she quit working for Rogers and also claims that because the father of her son had left her, she had no choice but to stay and endure Rogers' sexual abuse.
"As a condition of Brindle's employment, and against Brindle's will, Rogers willfully, repeatedly and with specific intent to harm and oppress Brindle, required Brindle to perform sexual services," the police reports reads.
"Rogers frequently appeared naked in front of Brindle…Rogers treated Brindle as subservient and required Brindle to perform these various sexual acts on him as a condition of her employment."
Article continues below advertisement
Brindle, 43, apparently handed in her notice in June after her son won a full scholarship to college.
Rogers' attorney Robert Ingram exclusively confirmed to RadarOnline.com on Friday that his client is not the current CEO of Atlanta-based Waffle House, but that he used to hold that title.
"My client still works for Waffle House in a senior capacity but he is no longer the CEO. He's the former CEO," Ingram said.
"Mr. Rogers strongly disagrees with the woman's allegations and since we are currently in litigation I cannot say any more about the case. A judge has instructed us not to."
However the police report continues: "Brindle was forced to endure the harassment and demeaning treatment by Rogers because she was a single mother and needed her job to support herself and her son.
"Brindle endured the sexual harassment and assault by Rogers for a number of years because she could not find work of comparable pay and because her child's father abandoned them."
Article continues below advertisement
Rogers, who was believed to be married to gospel singer Mary Welch Rogers, is in his early 60s and the majority of the abuse is said to have taken place at his home in Buckhead, Atlanta.
Both parties have filed lawsuits against each other and the case is ongoing.
Meanwhile Waffle House is no stranger to controversy: In 2005, customers in four southern states filed against the company for racial discrimination and before that in 2004 it was one of the subjects of a sanitation investigation by NBC's Dateline.