Psychics Stumble On Scientific Tests To Prove Their Powers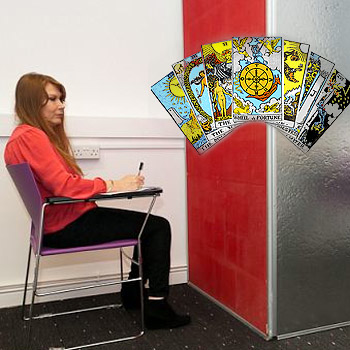 By Debbie Emery - Radar Reporter
Two top psychics failed to see the disastrous results of a Halloween challenge to prove the validity of their claims to be able to predict the future, or they no doubt would not have taken the test! (Shouldn't they have seen that coming?)
The experiment was carried out by researchers at Goldsmiths University in London, England, and required psychics Patricia Putt and Kim Whitton to identify characteristics of five randomly selected people who sat behind a screen.
Article continues below advertisement
In a result that won't shock any skeptics of the supernatural, that pair failed to show any evidence of unexplained powers of insight in the analysis designed by Chris French, head of the Anomalistic Psychology Research Unit at Goldsmiths, reported the BBC.co.uk.
These five volunteers were then asked to try to identify themselves from these psychic readings - with a success rate of only one in five. This was a result that was "entirely consistent with the operation of chance alone," revealed Professor French.
The mocking of their profession has outraged Putt, who argued that she needed to work face-to-face with people or to hear their voice to make a connection with their "psychic energy."
"Scientists are very closed-minded," she claimed, denying that it was fair to label them fraudsters or allege that psychics "were all the same."
However, Michael Marshall, Vice President of the Merseyside Skeptics Society which co-organized the exam, advised that anyone thinking of visiting a psychic should think twice before paying for the unfounded service.
Article continues below advertisement