Hurricane Sandy Hits Teresa! Giudice's Beach House Damaged By Floods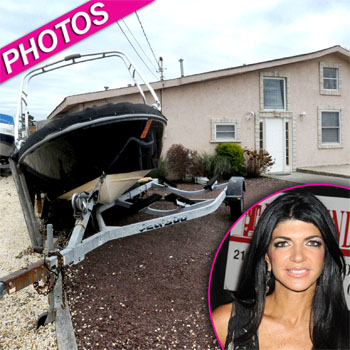 Article continues below advertisement
"Please support the @iheartRadio & @z100NewYork #Sandy Relief Drive tomorrow 6:30a-12p@ Paul Miller BMW in Wayne, NJ," she wrote.
Her hubby Joe Giudice's boat was parked in front of the West Haven Beach, NJ house before the hurricane ripped through the area, and the photos show that it crashed into the fence on the side of their house when the flood waters rose.
Through the windows there appears to be condensation on the inside, which may be from flood damage inside the home.
Teresa has written about the spirit of the people working together around her trying to clean up after the devastating hurricane, writing "And I love to see how everyone out here is pulling together and helping their neighbors and strangers. #amazing #love #faith #charity"
The mother-of-four has not been to the house since the hurricane, but has been Tweeting asking for prayers for her father who is in the hospital, and she wrote about how grateful she was about the support the area is receiving.
Article continues below advertisement