Jersey Shore Stars Reuniting For Live Special To Help Hurricane Sandy Victims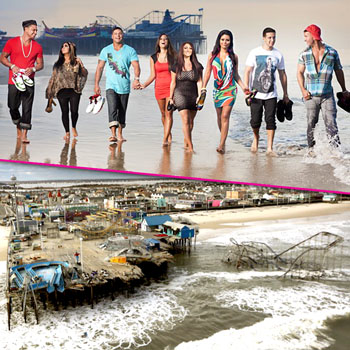 With Seaside Heights ravaged by Hurricane Sandy, the stars of the MTV hit Jersey Shore are reuniting for Restore the Shore, a live, hour-long special to help the citizens of Seaside Heights, the strip of coast that made them household names.
The show's resident record-spinner, Paul "Pauly D" DelVecchio, tweeted Monday: "#restoretheshore @MTV @archforhumanity and I are coming together to help re-build Seaside stronger than ever join us November 15 on MTV."
Article continues below advertisement
RadarOnline.com was first to break the news on Halloween that the cast would be reuniting for a special to raise money for the victims of Hurricane Sandy.
Donations in the special will be collected to rebuild the Seaside Heights boardwalk, as well as help locals and businesses.
Last Friday's fundraiser on NBC, featuring Jersey boys Jon Bon Jovi and Bruce Springsteen, drummed up $23 million in donations for the devastated area. Officials estimate as many as 2.6 million businesses and homes have yet to regain electricity in the wake of the superstorm.